If you grew up watching these OG Barbie movies in the early 00s, then this will hit you with a blast of nostalgia! Here are 5 life lessons we learned from the Barbie movies!
There is no little girl on the planet today that has not heard of, had a, or admired Barbie. And as some of you may not be aware (hello boys!), aside from the dolls—Barbie has movies too. And now even her own series. But before all these trendy Barbie movies that Mattel produces these days, Barbie movies from the early 00s used to have substance! Or as we'd like to call them, OG Barbie movies. They used to have life lessons that little girls would carry to this day… and maybe we're basing off personal experience. But that doesn't matter! What matters is that we're here to share it all with you! So here are 5 things we learned from the OG Barbie movies!
Barbie In The Nutcracker
"If you're kind, clever, brave, and true, anything is possible."

– Barbie
As flawed as that sounds, it's true! It doesn't matter if you're really true, as long as you stay true to yourself enough, you will be! It doesn't matter if you're really kind, if you practice enough kindness, you will be! And the amazing thing about it is that Barbie taught us this. She showed us through the Nutcracker that he can be a ruler that his people deserved, no matter what he thought of himself. So believe in yourself a little bit more and maybe anything is possible.
Barbie as Rapunzel
"Love and imagination can change the world."
-Barbie
In the same way that Rapunzel was saved from the evil witch because of the love from her parents and her imagination—we've learned that just simply knowing that someone who loves you is out there can be the fuel to keep you going. Because sometimes for people who have suicidal thoughts or mental health problems life can just be too much. And so by having someone who loves you, who appreciates you, and who believes in you is enough to hold on for just one more day. So for those of you going through some rough patches in life, keep in mind the people who love you. And that they see the good in you.
Barbie of Swan Lake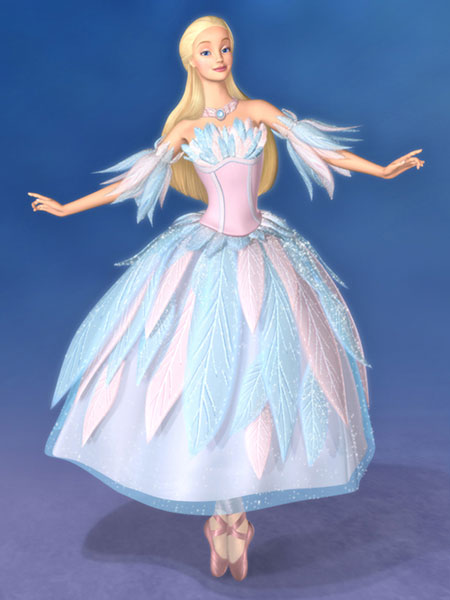 "You're braver than you think."
-Barbie
Sometimes the thing that's stopping us to achieve what we want is our fears. What if this happens, or that happens. And so many more other uncertainties. But really the only person standing in your way is you. So don't let you get in the way of you. You are braver than you think. Get past that fear and you can achieve anything.
Barbie as the Princess & The Pauper
"Live your dream"
-Barbie
The Princess & the Pauper is one of the more popular of the 00s Barbie movies. And we think that's because of the soundtrack. And yes the songs were great, but the main take away here is to not let your circumstances define your life. And Barbie showed us that through the seamstress Erika. Even though she was born poor unlike Princess Anneliese, she still worked hard to achieve her dreams.
Barbie: Fairytopia
"What makes you different, makes you special"

-Barbie
Fairytopia was one of our favorites because of the overall message that it delivers. "What makes you different, makes you special." And although people argue that everyone is special, and so no one really is. But the main message to take here is to embrace what makes you different and make it your strength!
There's really something to say about movies like these that take their audiences to heart. Even though Barbie has been under fire because of allegedly "setting unhealthy beauty standards" for young girls. We truly admire these Barbie movies and their attempt to inspire young girls.
Did you watch Barbie movies when you were younger too? Were you able to relate to some of these? We'd love to hear what you think! So share with us your thoughts in the comments down below! Or hit us up on our Facebook or Twitter @UDoUPh.