Sorry but Cyberpunk 2077's release is officially moved to September and there's nothing you could do about it
Guess we're waiting five months more!
One week hasn't passed after Square Enix announced that Final Fantasy VII Remake's release date would be pushed back to April. And now, the upcoming role-playing video game, Cyberpunk 2077, has been delayed until September.
Read more: Why was the Final Fantasy VII Remake release delayed?
CD Projeckt Red, the studio behind the game and the Witcher series, promised fans that it'll be coming April. However, they took it to Twitter to share that there's still finishing touches for the game until they officially launch Cyberpunk 2077.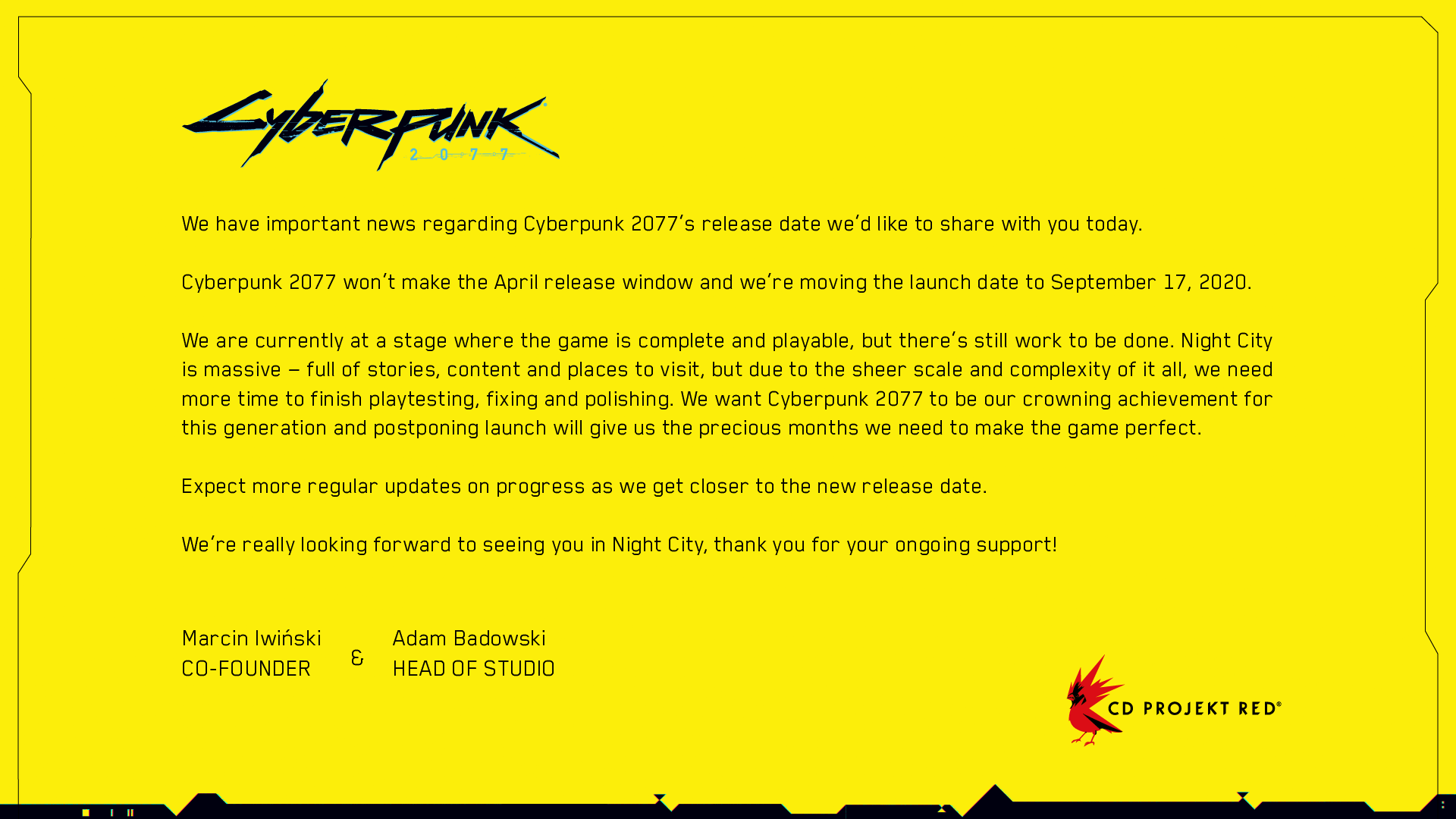 @CDPROJEKTRED Twitter
According to Marcin Iwinski and Adam Badowski, co-founder and head of studio at developer CD Projekt Red, respectively, "We are currently at a stage where the game is complete and playable, but there's still work to be done."
"Night City is massive — full of stories, content and places to visit, but due to the sheer scale and complexity of it all, we need more time to finish playtesting, fixing and polishing. We want Cyberpunk 2077 to be our crowning achievement for this generation and postponing launch will give us the precious months we need to make the game perfect," they continued.
Ultimately, many fans were disappointed considering they waited a whole year for this when it was first unveiled in E3 2019.
If you can't commit to a release date,then don't bother, I wish you all the best with this but frankly it's a new decade and delayed games should be a thing of the past.

— Charlie Light (@CharlieLight14) January 16, 2020
Well, I'd prefer that your employees get the time that they need to work on a game in relative comfort rather than have to crunch and be miserable.

Assuming the world's still here in September, we'll all be able to enjoy a better game that's developed ethically.

— 🏳️‍⚧️ VƎX is Trans 🏳️‍⚧️ (@vexwerewolf) January 16, 2020
For real? I just got holiday for the April release time. Na man, I am just 1 man and it will mean nothing to your company but I won't buy it anymore. I will probably watch streams but I have no holiday left so for me it's impossible to play this game anyway.

— unholymoon (@unholymoon93) January 16, 2020
We can understand the sentiments of fans, however there's nothing else left to do but wait. That's it for today, folks!
How do you feel knowing that Cyberpunk 2077  will be released later than expected? Feel free to tell us your thoughts and questions down below! Or you can hit us up on our Facebook or Twitter @UDoUPh. And if you liked this story, make sure to stay tuned here on U Do U for more updates!