Clara Benin is having a party and you're all invited! It's a celebration for her recently launched 'I Rose Up Slowly' EP and a merchandise launch too!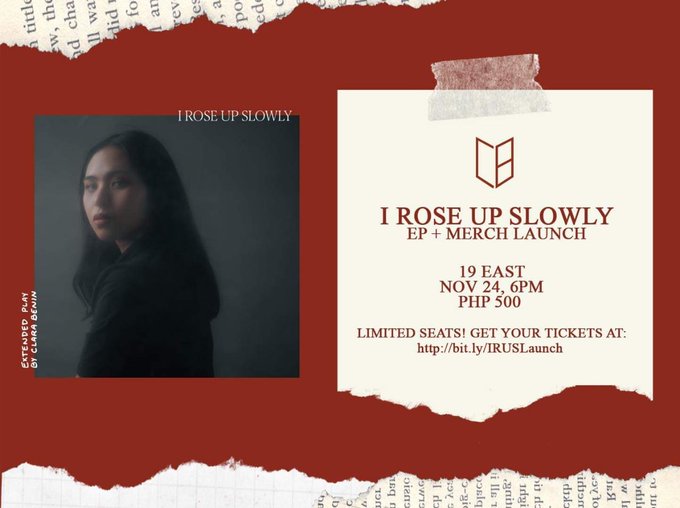 Clara Benin Official Twitter
Don't miss out on your chance to see Clara Benin perform live! Because she's throwing a party this November and you're all invited to come! Happening this November 24, Clara Benin is having an EP and merchandise launch party!
So head on down to 19 East in Sucat, Muntinlupa this November 24 for the Clara Benin EP and merchandise launch party! The event starts at 6 PM, and tickets are priced at 500 PHP each. But take note that there are only limited slots available. So buy your tickets now at, right here: http://bit.ly/IRUSLaunch
She officially announced the event last November 10 via her Twitter account @clarabeninmusic. Check it out:
preparing an intimate show for u guys to celebrate my EP, I Rose Up Slowly 🌹

Oh, & we're launching a new merch collection too ✨😏

Space is limited, so get ur tix now at https://t.co/L9RDajioHv #IRUSep pic.twitter.com/pLLlh0nzJQ

— CB (@clarabeninmusic) November 10, 2019
As for what merchandise she'll be releasing, there's no official announcement yet. But we have a feeling we'll be getting lyrics from her 'I Rose Up Slowly' EP on shirts and whatnot.
'I Rose Up Slowly' EP
Clara Benin Official Facebook Page
So ICYMI, Clara Benin recently released her 'I Rose Up Slowly' EP last October 11. It's a 5-track EP containing 'Airplane Mode', 'Tightrope', 'Wrestle', 'I Rose Up Slowly', and 'OMW (Back Home)'.
Our personal favorites from this EP are 'Tightrope' and 'Wrestle'. Did you know that Clara Benin actually released 'Wrestle' as a single last year in 2018? But it just feels so right at home in her new EP. When she sang:
I will wrestle angels for heaven's sake
And I won't settle until I know my name
We just absolutely felt that. 'Wrestle' is a song that tells the story of finding oneself. Of "wrestling" with your inner demons of accepting some parts of you that you can't seem to change. Of finding peace with your victories and losses. And laying claim to being happy where you are.
Read more: I Rose Up Slowly EP by Clara Benin will give you hope
So will you be attending the Clara Benin 'I Rose Up Slowly' EP and merchandise launch party? We'd love to hear what you think! So share with us your thoughts in the comments down below! Or hit us up on our Facebook or Twitter @UDoUPh.