We hate to tell you this, but The Chainsmokers Manila Concert was cancelled! It sucks, we know!
We can all remember getting all excited when The Chainsmokers announced that they are going to be here in August to perform live. Who wouldn't get excited? It's The Chainsmokers after all. However, organizer MMI Live just announced that the EDM-pop duo would not be coming to Manila anymore due to "unforeseen production circumstances". We can only wonder what that specifically means, but the August concert is still cancelled. Ticket refunds are in the process.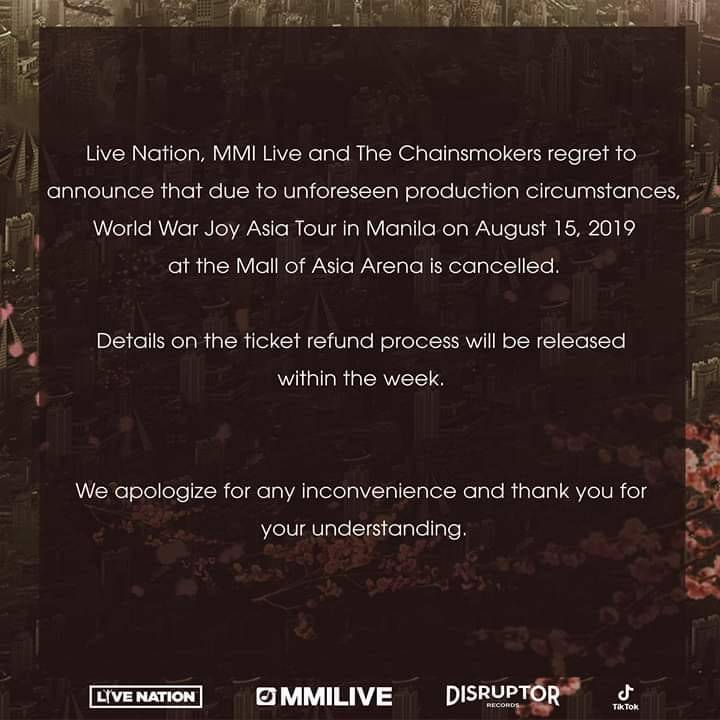 The Chainsmokers
Part of the reason we love The Chainsmokers is their EDM-pop music! Whenever they release a song, you can always be certain that it's going to be a hit. For weeks and weeks, we had LSS (Last Song Syndrome) over their songs 'Closer' with Halsey, 'Something Just Like This' with Coldplay, 'Don't Let Me Down' with Daya, among others! The duo isn't afraid of experimenting together with different artists. With this, they create a distinct sound that we all have come to love. And oftentimes, it's not really the artists complimenting their sound, but it's the other way around. We have loved these artists on their own, but paired with The Chainsmokers, it's almost a whole different experience when you listen to the songs!
World War Joy Tour
It was announced last May that The Chainsmokers were set to visit Manila for the World War Joy Tour on August 15th of this year. Also, other reports show that the legs in Bangkok and Singapore were cancelled, too! Must be sad for fans who are expecting their arrival at their respective countries. Some fans think that there should be some kind of compensation for the inconvenience. And that a simple refund isn't enough.
On the contrary, we think that the wouldn't just cancel a concert if it was just a minor inconvenience that caused it. Probably something major? We'd definitely still be waiting should there a reschedule of some sort. But we do hope they'll return to the Philippines!
How did you feel about the cancellation of The Chainsmokers Manila Concert? Share us your thoughts on the comments down below! Or hit us up on our Facebook or Twitter @UDoUPh.