Leave it to President Nadine to set the mantra for 2020!
View this post on Instagram
And we can also leave it to her for starting the year with one epic clap back! Because Nadine Lustre finally dispels breakup rumors with yet another iconic tagline, "Anu na, 2020 na!!"
Ever since 2017, Nadine Lustre has been known to hit headlines with her iconic lines. Such as "C'mon guys, it's 2017." And, "2018 na, wala na bang bago?"
And for this year, she did not disappoint. So, of course, most of you have heard the rumors of her breakup with James Reid. Rumors that we would like to officially point out as false! And the 'No 32' singer confirmed that yesterday on her Instagram Story. Specifically addressing a story that Ricky Lo wrote for the Philippine Star about her alleged breakup with James Reid: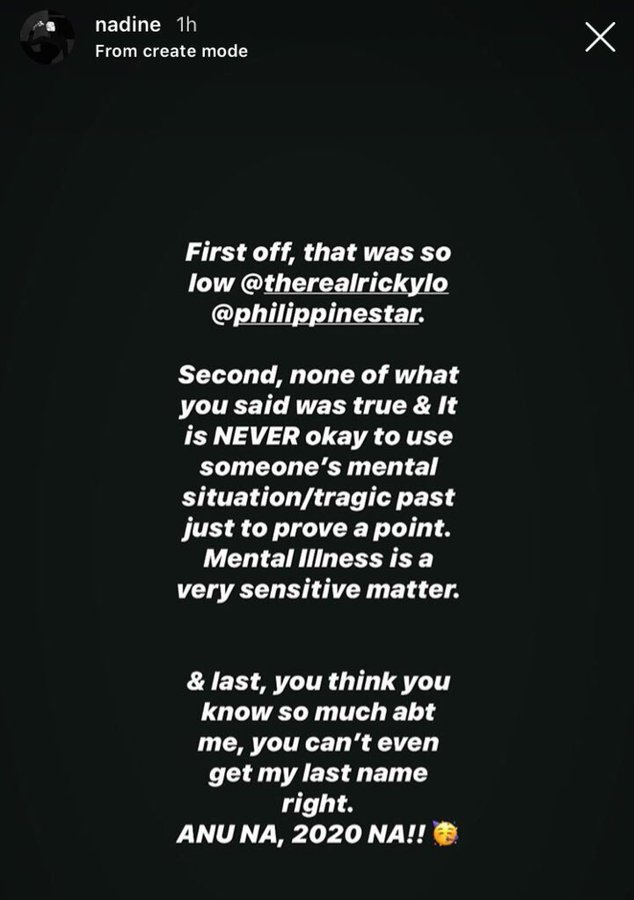 #AnuNa2020Na
So here's the tea on why Nadine Lustre went off on Ricky Lo and the Philippine Star. It's because they ran an article about the breakup rumors surrounding Nadine Lustre and James Reid.
So they not only confirmed that the couple had indeed broken up but also brought up the suicide of Nadine's brother and said that:
"James is handling the breakup with care to cushion the impact on Nadine who has admitted grappling with mental illness ([s]he has a brother who committed suicide)."
Obviously, the printed article is not only factually incorrect but is also riddled with errors. And the worst of it, they got Nadine's last name wrong. And instead of "Lustre", they printed out "Samonte".
Although the online version of the article has since been edited, you can check it out here.
*Photo Credit to Cosmo.PH
Read more: Stepping Into a New Era of Pinoy Music with Careless Music
So after weeks of speculation, we can finally put those breakup rumors between Nadine Lustre and James Reid to rest, don't you think? After all, #AnuNa2020Na!
So did you believe the breakup rumors about Nadine Lustre and James Reid? We'd love to hear what you think! So share with us your thoughts in the comments down below! Or hit us up on our Facebook or Twitter @UDoUPh.